Lyme Disease in Australia
The existence of Lyme disease in Australia has been disputed close to 20 years. Presently the debate is still on going. 
In late 2012 Karl McManus Foundation contacted the Chief Medical Officer of Australia to discuss Lyme disease in Australia. Following that meeting the CMO could see there was a need to investigate further and the formation of the Clinical Advisory Committee on Lyme Disease (CACLD) was initiated.  The CACLD was set up to address the Lyme disease issues in Australia within a defined time frame and had its last meeting on 15 July 2014.  Although the committee will no longer meet in a formal setting, the involvement of the Health Department and CACLD members in investigating Lyme borreliosis and Lyme like-disease will continue.
The first documented case of borreliosis (Lyme/Lyme-like disease) in Australia was from the Hunter Valley in NSW in 1982 (Stewart et al 1982).  Other cases were reported from the South Coast and other areas of NSW (
McCrossin, 1986
;
Lawrence et al 1986
).
The National Health & Medical Research Council (NHMRC) awarded a grant to a research group at Institute of Clinical Pathology & Medical Research at Westmead Hospital to answer the question whether Australian ticks harbour Borrelia bacteria (Professor Richard Russell). At about the same time another group at the University of Newcastle and Royal North Shore Hospital in Sydney (Professor Richard Barry, Michelle Wills and Associate Professor Bernie Hudson) were investigating the same question.
Russell et al (1994) could not isolate any Borrelia bacteria or DNA from the common Australian ticks collected from the Eastern seaboard. They collected 12,000 ticks but only tested 1038 with PCR. Throughout the study they assumed that only
B. burgdorferi
sensu stricto could cause Lyme disease. Established European genospecies at the time –
B.garinii
and
B.afzelii
– were not explored. 
Both fed and unfed ticks were used. From the fed ticks they isolated spirochete-like objects (SLO), which were concluded to be aggregations of bacterial flagella from non spirochetal contaminating bacteria.   However, these aggregations were probably dead spirochetes. In vitro culture of spirochetes is difficult at best (
Ruzic-Sabljic et al 2014
).
The Russell et al., (1994) study has influenced the status of Lyme disease in Australia significantly for the last two decades.
In contrast, Michelle Wills isolated and grew spirochetes from Australian ticks and identified them as Borrelia (
Wills & Barry, 1991
). This research group also provided evidence of exposure to Borrelia in patients with clinical symptoms of borreliosis. A cohort of 2105 people were tested for IgG antibodies against Outer Surface Protein A, a specific Borrelia protein, and 7% tested positive on a Western Blot against the American strain
B. burgdorferi
(B31); 18% for the European strain
B. garinii
(NBS-16) and 13% for
B. afzelli
(ACA-1) (Wills et al., 2012  abstract- Zoonoses Conference 2012, Sydney Australia). Bernie Hudson has isolated strains of
B. garinii
from skin biopsy samples of Australians (
Hudson et al., 1998
).
Furthermore,
Carley and Pope (1962)
had identified an Australian strain of Borrelia,
Borrelia Queenslandica
and Mackerras (1959) had reported the isolation of Borrelia from Australian fauna – kangaroos, wallabies and bandicoots previously.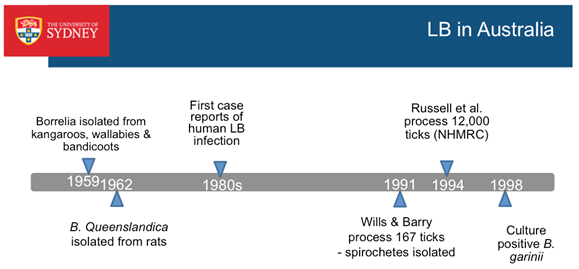 Due to a lag of almost 20 years, there was no research into Borrelia in Australia and a diminished presence of Lyme disease in the medical curriculum.  Presently there is a lack of knowledge in Australia about Borrelia bacteria and the clinical symptomology it presents.  
Due to the concerted effort of the Karl McManus Foundation raising awareness into the need for research into Australian Lyme-like illness and due to the generous donations so far received research is being funded at the Tick-borne Diseases Unit at The University of Sydney.  Both clinical research and tick research is underway into Borreliosis and other tick-borne infections such as Babesiosis.
Interested researchers with a proposal that addresses the
key research areas
 can
contact KMF
directly.
There is still a long way to go and research is expensive and your continued donations are very much appreciated.
Other tick research is also being conducted at Murdoch University, Western Australia by Associate Professor Peter Irwin that has been funded by an ARC Linkage grant with Bayer. 


There is an urgent need to educate clinicians in the differential diagnosis of Lyme borreliosis as the broad spectrum of symptoms can result in misdiagnosis.  The Tick-borne Diseases Conferences hosted by the Foundation are excellent forums to gain updated knowledge on Lyme Borreliosis for clinicians.
Please support the Karl McManus Foundation so that doctors close to you can learn to diagnose and treat Lyme disease and hence help you.
What's On

News
Growing evidence of an emerging tick-borne disease that causes a Lyme like illness for many Australian patients
On 12 November 2015, the Senate referred the following matter to the Senate Community Affairs References Committee for inquiry and report:
The growing evidence of an emerging tick-borne disease that causes a Lyme‑like illness for many Australian patients.
Submissions should be received by 31 March 2016. The reporting date is 20 June 2016.
Nov 17, 2015