Mission Statement, Directors & Patrons
 
 
 

Lyme-like illness has been described in Australia since the 1980's but the causative agent is not known.   There is some evidence that it may be Borrelia species. Borreliosis (Lyme disease, Lyme borreliosis or relapsing fever) in Australia is difficult to diagnose not only due to non-specificity of symptoms, but also poor diagnostics. The infectious process is also complicated by the genetic biodiversity of Borrelia and multiple co-infections delivered by the tick bite.

Pro

Multiple names have been used to describe this infectious process. This includes Lyme disease, Lyme borreliosis, neuroborreliosis, Bannwarth syndrome, Baggio- Yoshinari syndrome, relapsing fever, relapsing fever borreliosis and multiple systemic infectious disease state (MSIDS).  Lyme-like illness has also been used based on clinical observations only.   

 
Due to the varied and complex nature of this infectious process, it is often not recognized and misdiagnosed, not only in Australia but in other countries around the world.  This is a huge barrier that needs to be overcome.
The mission of the Karl McManus Foundation is to contribute to world knowledge and to improve understanding of Australia's Lyme-like illness, borreliosis (Lyme disease, Lyme Borreliosis or relapsing fever) and other tick-borne diseases by:
Raising awareness.
Facilitating research - a primary focus is to fund research to identify the causative agent(s) of Lyme-like illness in Australia and detection and treatment.
Advocating for better testing and treatment.
Ensuring translation of Australian and international evidence-based medical research into Australian policy and practice.
Educating doctors and other health professionals.
Alerting and educating the public especially on the prevention of tick bites.

Encouraging differential diagnosis of chronic diseases that borreliosis (Lyme disease, Lyme Borreliosis or relapsing fever) can imitate, such as Parkinson's disease, motor neurone disease (MND) (also known as amyotrophic lateral sclerosis (ALS), Charcot Disease and Lou Gehrig's disease), multiple sclerosis (MS), Alzheimer's disease, fibromyalgia and myalgic encephalomyelitis (ME)/chronic fatigue syndrome (CFS). 
BOARD OF DIRECTORS
Prof. Ted Martin
Emeritus Prof. of Microbiology, The University of London
The Companion of Flinders University, South Australia
More


Emeritus Prof. Graham Johnston
Department of Pharmacology, The University of Sydney
Prof. of Medicinal Chemistry.
More


Dr Mualla McManus
Honorary Associate of University of Sydney, School of Medical Sciences
Pharmacist
Pharmacologist (Neuropharmacology, Immunology, Haematology)
Proprietor of a community pharmacy.

Founder of the Karl McManus Foundation for Lyme Disease Research & Awareness. The wife of Karl McManus, in whose name this foundation has been formed. Dr McManus's aim through the work of the Foundation is that                                                         no other Australian with Borreliosis has to suffer as Karl suffered and that                                                             no further lives are sacrificed.
Gary Sanderfield
Deputy Director International Recruitment University of Sydney.
January 2014 – Present (2 years 3 months)Sydney, Australia.
Senior Executive with broad expertise in creating profit growth through integrative planning, intense team participation and precise execution while promoting a positive change environment that invigorates sustained growth, builds on the creativity of empowered team members while remaining in alignment with long and short term strategic objectives.
Formerly:
Director International Enrolment Operations, Arizona State University
VP of Campus Operations, Western International University
Campus Director, International Division, University of Phoenix
Assoc. Director of Enrolment, Military Division, University of Phoenix
Overseas Military Admissions manager, University of Phoenix
Director of Sales and Marketing, Sierra Medical Centre
Medical Equipment Sales, Applied Cardiac Systems
Combat Medical Specialist, U.S. ARMY
More
Dr. James Read
MBBS, FRACGP, Grad Dip Rural GP, JCCA qualified GP anaesthetist
Areas of interest
Child Health (ADHD, Autism, Learning disorders, Food intolerances and allergy including colic and reflux)
Gastrointestinal disorders
Emotional and Mental Health
Weight Management and Diabetes Chronic Fatigue/Fibromyalgia
Nutritional Interventions for chronic disease (Autoimmune disease and cancer)
                                                  Natural Hormone Management
Emeritus Directors
 

 
 

Prof. John Shine, FAA, AO

Garvan Institute, Sydney
Recipient of 2010 Prime Minister's Science Prize
Executive Director of the Garvan Institute 1990-2011
Prof of Medicine and Prof of Molecular Biology, The University of New South Wales.
More



 

 
 

Prof. Tim Roberts

Director of Tim Farrell Institute
Prof. Biological Sciences, The University of Newcastle, NSW
Research interests include: ehrlichia and other bacteria in ticks, biology of free-ranging dogs.
More

 

 

 
 

Prof. Ken Ho

Chair of Princess Alexandra Hospital
Centres for Health Research, Wooloongabba QLD 4102
Prof. of Medicine
Endocrinologist - world-renowned growth hormone researcher
More
 ADVISORY ASSOCIATE
Prof. Judy Black Prof. of Respiratory Physiology, Woolcock Institute of Medical Research, University of Sydney
More
PATRONS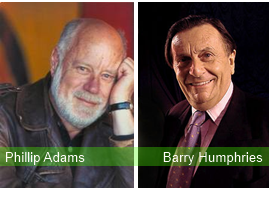 Phillip Adams, AOPhillip is an Australian farmer, broadcaster and public intellectual. He currently hosts an ABC radio program, Late Night Live, four nights a week, and writes a weekly column for The Australian. He has been a successful advertising executive and film producer, and has served on many boards including Greenpeace Australia, Ausflag, Care Australia, Film Victoria, National Museum of Australia, both the Adelaide and Brisbane festivals of ideas, the Montsalvat Arts Society and the Don Dunstan Foundation.Awards include four honorary doctorates from Australian universities; two Orders of Australia; Republican of the Year 2005; the Senior ANZAC Fellowship; the Australian Humanist of the Year, the Golden Lion at Cannes; the Longford Award; and the Henry Lawson Australian Arts Award. In 1997 the International Astronomical Union named a minor planet orbiting the sun between Mars and Jupiter after him. A National Trust poll elected him one of Australia's 100 national living treasures.
Barry Humphries, AO, CBEBarry is an Australian comedian, satirist, artist, and author. Humphries is best known for writing and playing his on-stage and television alter egos Dame Edna Everage and Sir Les Patterson. He is also a film producer and script writer, a star of London's West End musical theatre, an award-winning writer and an accomplished landscape painter.
More
What's On

News
Growing evidence of an emerging tick-borne disease that causes a Lyme like illness for many Australian patients
On 12 November 2015, the Senate referred the following matter to the Senate Community Affairs References Committee for inquiry and report:
The growing evidence of an emerging tick-borne disease that causes a Lyme‑like illness for many Australian patients.
Submissions should be received by 31 March 2016. The reporting date is 20 June 2016.
Nov 17, 2015