Ticks in Australia
 
 
 

Ticks are obligate haematophagous ectoparasites (blood-feeding parasites, that live on the outside of their host) and are abundant in most continents. They are important vectors for the transfer of microorganisms causing disease in livestock and humans. They can feed on mammals, birds and reptiles. Globally they transmit Borrelia (the bacteria which cause borreliosis - also known as Lyme disease/Lyme-like disease, Lyme borreliosis or relapsing fever), Ehrlichia, Babesia, Rickettsia, Bartonella and other infections.

 
Ticks are arachnids, a subset of the arthropod family (insects and crustaceans are also arthropods), having a segmented body, jointed limbs and usually a chitinous shell that undergoes molting. They are also capable of inducing allergies, causing toxicoses and paralysis. 

They are generally divided into hard and soft ticks. The hard ticks belong to the class Ixodidae and soft ticks to Argasidae. They are listed below.
HARD TICKS (Ixodidae) 
Ixodes holocyclus­ -paralysis tick (Queensland, New South Wales, Victoria)
Ixodes australiensis (Western Australia and Tasmania)
Ixodus cornuatus -southern paralysis tick (South East Coast of New South Wales, Central Victoria and Tasmania)
Ixodes tasmani -common marsupial tick (Tasmania, Victoria, New South Wales, Queensland, South Australia, Western Australia)
Ixodes vestitus -numbat tick (Western Australia)
Haemophysalis bancrofti -wallaby tick (east coast of Australia)
Haemophysalis longicornis -bush tick (Eastern Australia-Queensland, NSW, some parts of Victoria Western Australia- between Walpole and Denmark
Rhipicehpalus sanguineus -brown dog tick (Eastern, Northern and Western Australia)
Rhipicephalus (Boophilus) australis (Australian cattle tick) (Queensland, Northern Territory, Western Australia, Northeastern New South Wales)
The Amblyomma triguttatum -ornate kangaroo tick (Western Australia, Queensland, Northern New South Wales, Southwestern Western Australia)
Bothriocroton auruginans -wombat tick (Queensland-NSW border to South Australia-Western Australian border and Tasmania)
Bothriocroton hydrosauri  -south reptile tick (Southern NSW, Victoria, South Eastern South Australia And Tasmania)

SOFT TICKS (Argasidae)
Argas persicus -poultry tick (mainland Australia)
Argas robertsi  -Roberts bird tick (Northern Territory and Queensland-not well studied)
Ornithodoros gurneyi  -kangaroo soft tick (Central Australia, Queensland, Western Australia, Northern Territory)
Ornithodoros capensis -seabird soft tick(nests of seabirds on islands and mainland –not well studied, reported along coast from Perth in Western Australia to Sydney, NSW)
Soft ticks can survive in caves and stay dormant for years if conditions are not favourable.  Humid temperate areas are not the only places where ticks are common.  Soft ticks (Argasidae) such as Ornithodorus  erraticus, O. sonrai, O. moubata, transmit relapsing fever Borrelia in Africa  (Table link-Borrelia genospecies ) and are endemic in dry, mountainous areas. Soft ticks (Argasidae) have a global distribution.

The Paralysis Tick
Ixodes holocyclus
is the paralysis tick. It can cause paralysis by a neurotoxin released during tick feeding which blocks the acetyl choline receptors in muscle (
Hall-Mendelin et al
, 2011). Paralysis can occur in small animals and children, or in adults in a delayed fashion. Initial symptoms of tick paralysis may include unsteady walk, weakness of the limbs rashes, headache, fever, flu like symptoms, tenderness of lymph glands and partial facial paralysis (
Morris et al
2003).  See
Bushcare-Newsletter-Winter-2011
.
In addition, the paralysis tick can transmit infections such as Queensland tick typhus (
a Spotted Fever group rickettsiae). 
Please refer to the table below that lists infections that are transmitted by Australian arthropods.


 

Pathogen

 

Human Disease

 

Vector

 

Location

 

Reference

 
 

Rickettsia

Rickettsia honei sub sp marmionii
 
Australian Spotted Fever
 
Haemaphysalis novaeguineae
 
Eastern QLD
Eastern & Southern NSW
Victoria
Tasmania
South East SA
 
Unsworth et al., 2007
 
 
 
 
 
 
 
 
 
 
 
 
 
Rickettsia typhi
 
Murine Typhus
 
Flea-Ctenocephalides felis
 
Small areas in North East & South East QLD
Sydney
Greater Melbourne
South East SA


West Cast around Perth and Cape Range National Park

 
Graves & Stenos, 2009
 
 
 
 
 
 
 
 
 
 
 
 
 
Orientia tsutsugamushi
 
Scrub Typhus
 
Mites-larval "chiggers" Leptotrombidium deliense
 
Northern Australia
 
Graves & Stenos, 2009
 
 
 
 
 
 
 
 
 
 
 
 
 
R.australis
 
Queensland Tick Typhus
 
Ixodes holocyclus, Ixodes tasmini
 
East Coast of Australia QLD, NSW, Victoria
 
Graves & Stenos, 2009
 
 
 
 
 
 
 
 
 
 
 
 
 
Rickettsia honei
 
Flinders Island Spotted Fever
 
Bothriocroton hydrosauri
 
Victoria, Tasmania, SE South Australia, Southern NSW
 
Graves & Stenos, 2009
 
 
 
 
 
 
 
 
 
 
 
 
 
Rickettsia grevesii
 
?
 
Amblyomma triguttatum 
 
 
 
Abdad et al., 2014
 
 
 
 
 
 
 
 
 
 
 
 
 
Rickettsia felis
 
Cat Flea Typhus
 
Flea-Ctenocephalides felis
 
 
 
Abdad et al., 2011; Williams et al., 2011
 
 
 
 
 
 
 
 
 
 
 
 
 
Coxiella burnetii
 
Q-fever
 
Ixodes holocyclus, Amblyomma triguttatum 
 
QLD, WA, NSW, SA
 
Cooper et al., 2013; Tozer et al., 2014; McDiarmid et al, 2000
 
 
 
 
 
 
 
 
 
 
 
 
 
Bartonella henselae
 
Bartonellosis, Cat Scratch Disease
 
Flea-Ctenocephalides felis; ticks?
 
 
 
Arvand et al., 2007
 
 
 
 
 
 
 
 
 
 
 
 
 
Bartonella clarridgeiae
 
Bartonellosis, Cat Scratch Disease
 
Flea-Ctenocephalides felis; ticks?
 
Eastern Australia
 
Barrs et al., 2010
 
 
 
 
 
 
 
 
 
 
 
 
 
Babesia microti
 
Babesiosis
 
?
 
?
 
Senanyake et al, 2012
 
 
 
 
 
 
 
 
 
 
 
 
 
?
 
Lyme-like disease
 
?
 
?
 
Stewart, 1982; McCrossin, 1986; Lawrence et al., 1986;
Wills & Barry, 1991; Hudson et al., 1994; Hudson et al., 1998
 
 
 
 
 
 
 
 
 
 
 
 

How Ticks Spread Infection
Three host ticks have a life cycle consisting of eggs – hatch– larva (6 legs) – feed – nymph (8 legs) – feed – adult (8 legs) – feed – lay thousands of eggs and die (see diagram). The male tick usually feeds on the female while they copulate. Male ticks are less dangerous than females as they are more likely to feed on female ticks than hosts. Nymphs are asexual and smaller in size than adults. There are also one-host ticks that spend all of their life cycle with one animal and two-host ticks which have two animals as hosts.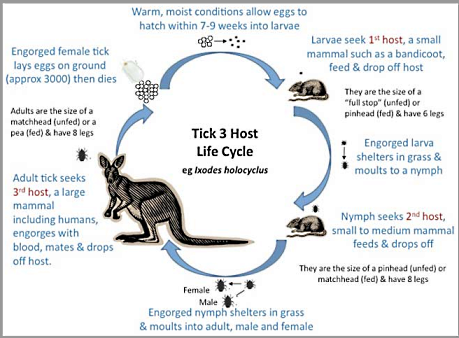 Tick Bite Meat Allergy 
Tick saliva contains antigenic proteins to which the host immune system can react resulting in a localised skin reaction.  An allergic reaction which can be anaphylactic has also been described to red meat developed following tick bite. This allergic reaction appears to be elicited to a mucopolysaccharide galactose- alpha-1,3 galactose in tick saliva resulting in IgE production. If the person consumes red meat there is a delayed allergic reaction. (
Commins et al, 2011
).
Clinicians when presented with a tick bite need to consider both potential allergic reaction and underlying infection.  Problems arise when the allergic reaction or symptoms have a delayed onset from time of tick bite.
 
 
 
 

The life cycle of Babesia microti. 

This is an excellent video by the Tick Encounter Resource Center (University of Rhode Island) on how infections are transmitted from a tick to its host.
 Distribution of Ticks in Australia
The maps below show the main distribution of 3 common ticks in Australia




What's On

News
Growing evidence of an emerging tick-borne disease that causes a Lyme like illness for many Australian patients
On 12 November 2015, the Senate referred the following matter to the Senate Community Affairs References Committee for inquiry and report:
The growing evidence of an emerging tick-borne disease that causes a Lyme‑like illness for many Australian patients.
Submissions should be received by 31 March 2016. The reporting date is 20 June 2016.
Nov 17, 2015